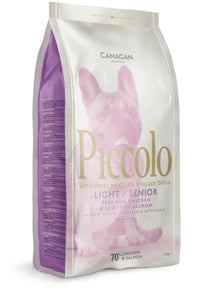 With Vegetables & Botanicals
We use the finest natural ingredients for our Piccolo Light/Senior recipe.
Lower fat and calories makes this perfect for the older dog or ones that need to shed a few pounds. However, we haven't compromised on quality. 70% Chicken and Salmon provides the higher levels of protein that your small dog requires. Senior and overweight dogs can suffer with joint problems so we've added plenty of the joint health compounds glucosamine, MSM and chondroitin to help. Sweet potato provides slow release energy to keep them going throughout the day, whilst a variety of vegetables, fruit and botanicals provide essential nutrients and vitamins to keep them in tip top condition.
Composition
Freshly Prepared Deboned Chicken (31%), Freshly Prepared Deboned Scottish Salmon (20%), Dried Chicken (13%), Sweet Potato, Potato, Peas, Dried Scottish Salmon (6%), Dried Egg (2.5%), Chicken Gravy (2%), Alfalfa, Minerals, Vitamins, Glucosamine (1780 mg/kg), MSM (1780 mg/kg), Chondroitin Sulphate (1,250 mg/kg), Apple, Carrot, Psyllium, Seaweed, Fructooligosaccharides, Spinach, Cranberry, Camomile, Peppermint, Marigold, Aniseed & Fenugreek.