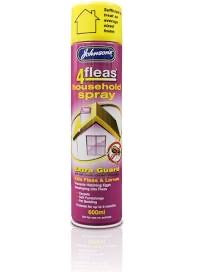 Johnson's is a family owned company who have been exclusively supplying pet shops for over 90 years.

Johnson's 4fleas Household Spray 'Extra Guard' (with I.G.R.

for extra protection) contains Permethrin, S-methoprene and Tetramethrin.

The spray kills fleas, larvae and other insects, prevents hatching eggs developing into fleas and also protects carpets, soft furnishings and pet bedding for up to several months.

With only 5% of the flea problem being live fleas on your pets, fleas and flea eggs will be found within your pet's baskets, bedding and regular resting areas, including carpets and soft furnishings; these should be treated with a household flea spray or fogger and vacuumed regularly.

Household only.