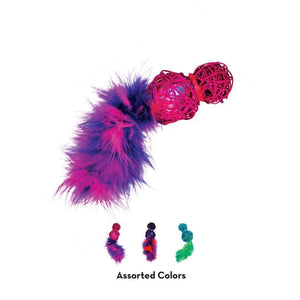 Providing continual sensory stimulation delighting, amusing and entertaining all cats the KONG Wubba Wicker appeals to your cats natural instincts and desires ensuring lots of batting, swatting and chasing fun.
Providing enriching and stimulating play for cats of all sizes, abilities and breeds the KONG Wubba Wicker has an array of tempting features designed to entice grab and catch instincts. Promoting instinctual activity including clawing, batting, swatting, wrestling and hind-paw kicking it appeals to your cats instinctual desires to stalk and capture prey, with a long, dangling feather tail engaging and delighting your cat for even more fun. Made from natural wicker in bright, vibrant colours it ensures a highly visible, durable design great for multiple and intense play sessions. Adding even more excitement and engagement to your cats play day the KONG Wubba Wicker features an LED Light ensuring active play and a healthy dose of exercise. Extending playtime fun it also contains KONG's premium North American catnip providing an irresistible scent that sparks your cats curiosity and playful nature, arousing and captivating your cat to encourage healthy and instinctual activity.
A durable, vibrant wicker Wubba toy for cats
A great alternative to plush toys providing a range of enticing textures encouraging active play
Developed to appeal to your cats instinctive desire to stalk and capture prey
Provides lots of sensory stimulation, with varied textures, LED lighting, catnip filling and and long feather tail
Encourages and fulfils your cats natural grab and catch instincts
Encourages healthy instinctual activity including hind paw kicking, wrestling, batting, swatting, chasing and more
Suitable for cats of all sizes encouraging healthy exercise and enjoyable on-going games
Highly durable for long lasting fun and multiple play sessions
With KONG Premium North American catnip sparking your cats playful side for even more fun
With LED light encouraging active play sessions keeping your cat engaged in the game in hand
With a long, fluffy feather tail providing unpredictable movement that extends playtime and adds more excitement to any game
Made with natural wicker in a variety of bold, bright colours
Colours are randomly allocated. Available in 3 colours.