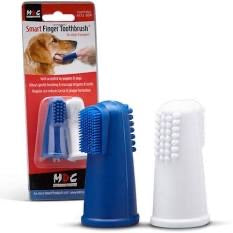 Made of soft rubber, this toothbrush tip fits over the index finger allowing gentle brushing and massage of animal's teeth and gums using precise pressure.
Well accepted by puppies and cats
Reusable
Allows gentle brushing and massage
Correct brushing of teeth, together with gum massage can greatly reduce tartar and plaque formation. Regular brushing and massage will help eliminate bad breath, gingivitis and allows owners to monitor their pet's dental health. Each pack contains a pair of soft and pliable finger toothbrushes allowing the application of dental paste or gel to the animal's teeth and gums. Each toothbrush has two types of raised bristle giving options for cleaning, brushing or massage. Unlike other brushes, the dexterity and ability to modify pressure make this product well accepted by puppies and dogs. A less intimidating way to promote good pet dental hygiene, the Finger Toothbrush is excellent for demonstration in dental clinics and puppy parties. Reusable and easy to clean.