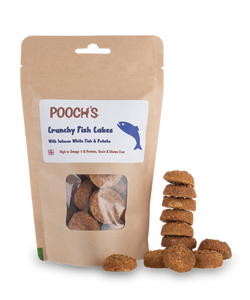 Our Salmon, Whitefish & Potato Fish Cakes, ideal for any size dog or you can find our biscuit burgers for larger dogs or a longer lasting treat for smaller dogs.
Crunchy fish treats packed with natural goodness to promote the health and wellbeing of your dog. Salmon contains a healthy balanced level of Omega 3 & 6.
No additives or preservatives – 100 % natural ingredients!
Composition: Min 35% Salmon, Whitefish, Potato, derivative of vegetable origin (A natural plant extract which controls the level of oil in the fish – To minimise burning whilst baking)
Analytical Constituents (%): Protein: 16.7%, Crude Oil & Fat: 18.4%, Crude Ash: 1.8%, Crude Fibres: <0.1%.
Feeding Guidelines: Feed as a treat or reward in between your dog's normal meals as part of a balanced diet.Not suitable for puppies under 14 weeks old. Please ensure a bowl of fresh water is always available.
100gms