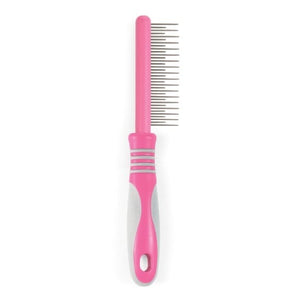 We all know that cats can groom themselves, however, regular grooming by the owner can drastically reduce fur balls and associated problems. Ancol offer a compact yet inclusive range of essential cat grooming items.
The Ancol Cat Moulting Comb is a highly effective metal comb for cats which promotes a healthy, glossy coat.
This fantastic product has two different comb teeth sizes; the long teeth penetrate the coat whilst the shorter teeth gather up loose hairs. By grooming your cat regularly you can reduce fur balls, remove moulted hair and keep an eye on your cat's health at the same time.
Suitable for long haired breeds.