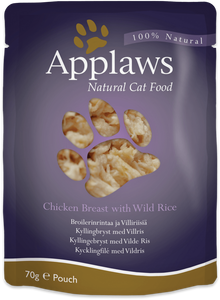 Applaws Cat Pouches are a convenient way to give your cat the highest quality meat protein.
Composition
Chicken Breast 75%, Chicken Broth 21%, Wild Rice 4%
Analytical Constituents
Crude Protein 14%, Crude Oils and Fats 0.3%, Crude Ash 2%, Crude Fibre 1%. Moisture 82%
Natural Declaration
100% Natural, Applaws is a complementary pet food for adult cats, feed alongside a complete wet or dry cat food including Applaws complete dry cat food, for a balanced diet.