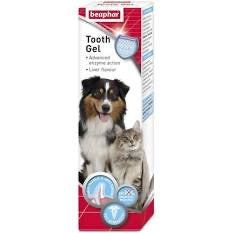 Beaphar Toothpaste 100g is fantastic dual action toothpaste that is excellent for maintaining good oral hygiene in your pet.
Specially formulated for dogs in a readily accepted meaty flavour, this toothpaste helps to strengthen your pet's teeth while special enzymes work to break down plaque and tartar build up.
Also containing chlorophyll, this outstanding toothpaste actively combats bad breath by absorbing nasty oral odours.
So for better oral hygiene that will leave your pet's mouth clean and fresh, the Beaphar Toothpaste is the perfect choice!