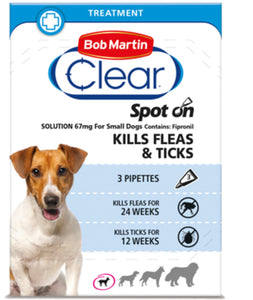 Bob Martin flea clear spot on Solution for dogs is for killing fleas and ticks on your dog. Applied at the back of the neck and between the shoulders, each treatment provides protection against fleas for up to 8 weeks and protects from ticks by up to 4 weeks. Bob Martin flea clear spot on can be used on dogs over 2 months old and is suitable for use in homes with both cats and dogs.

Directions

FleaClear must be applied at 2 points - at the base of the back of the dog's head and between the shoulder blades. If the dog is wearing a collar remove it first so that it does not restrict application. Hold tube upright and snap off the top section of the cap opening the tube. Part your dog's coat until the skin is visible. Place the tip of the tube directly against the skin and squeeze gently. Apply approximately half of the tube at the back of the dog's neck and half between the dog's shoulders. Squeeze the tube several times to ensure dosing is complete. Avoid applying onto the fur and do not rub into the skin as this will reduce the product's performance.

Safety Warning

Do not use on puppies less than 2 months of age. Weigh the puppy first and ensure that correct product is used for the weight of the puppy. Avoid excessive wetting of the hair; occasionally some stickiness of crystals may be seen but these will usually disappear within 48 hours. Avoid frequent shampooing or swimming. This product provides protection from fleas for 8 weeks and ticks for 4 weeks. The minimum interval between treatments is 4 weeks. Read the enclosed package leaflet before use for full instructions and all warnings, including user warnings. The user safety warnings can also be found on the inner flap of the carton and should be read before each use. Do not allow pets to lick each other after treatment.