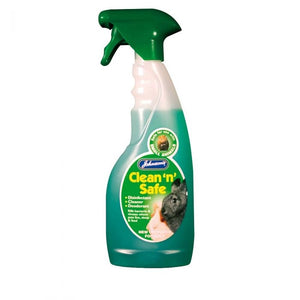 Johnson's Clean 'n' Safe Spray for Small Animals is a versatile product, invaluable to any small pet owner.
The antibacterial spray is suitable for use on hutches, cages, food bowls any other surfaces your small friend comes into contact with. It kills germs and bacteria, providing your pet with a safe, sanitary environment.
Johnson's Clean 'n' Safe range has been specially formulated without phenols, which may be harmful to some animals.
The handy trigger action makes this spray quick and easy to use.