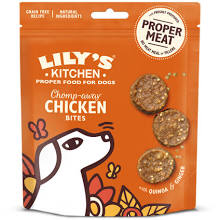 These brilliant little bites are bursting with mouthwatering proper meat that makes dogs jump for joy!
Made with freshly prepared chicken, we've added a sprinkling of quinoa (an energy and protein-rich seed) and a gentle dash of ginger (known to aid digestion) for a simply delicious, natural treat. Perfect for training, in between meals or… just because. These tempting treats are made to a grain free recipe, with natural ingredients and without any added nasties - so your furry family can enjoy them every day.  Mix and match our pocket-size bags to find your dog's perfect treat-time.
 Freshly Prepared Chicken (80%), Vegetable Glycerine (derived from rapeseed oil), Pea Protein, Quinoa (2%), Ground Ginger (0.5%). Technological Additives: Antioxidants (Tocopherol Extracts from Vegetable Oils).