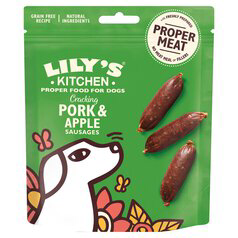 Cracking Pork & Apple Sausages. This is a complementary pet food for adult dogs 4 months+.

A cracking bag of succulent little sausages packed with irresistible, proper meat, you'll get more waggs than ever before!
Made with freshly prepared pork and air-dried for a satisfyingly chewy texture, these delightful snack-size sausages are full of valuable protein for a simply delicious, natural treat.
Perfect for training, in between meals or… just because. These tempting treats are made to a grain free recipe, with natural ingredients and without any added nasties - so your furry family can enjoy them every day.
Mix and match our pocket-size bags to find your dog's perfect treat-time.
Key Benefits
Proper Food For Dogs, Grain Free Recipe, Natural Ingredients, With Freshly Prepared No Meat Meal or Fillers, Proper Meat
Product Information
Discover our other treats and delicious dinners for dogs at lilyskitchen.com
Ingredients
74% Freshly Prepared Pork, Pea Protein, Vegetable Glycerine (derived from Rapeseed Oil), 4% Apple