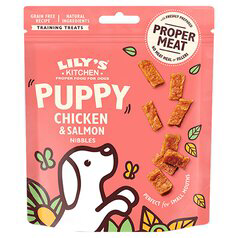 Chicken & Salmon Nibbles. This is a complementary pet food for puppies 2 months+.

Mighty in taste and packed full of lip-lickingly delicious, proper meat, your dog will be over the moon with our mini jerky!
Made with freshly prepared chicken & salmon theyr'e gently baked for a lovely, chewy, flexible texture, these nibbles are packed full of valuable protein and makes a simply delicious, natural treat.
Perfect for training, in between meals or… just because. These tempting treats are made to a grain free recipe, with natural ingredients and without any added nasties - so your furry family can enjoy them every day.
Key Benefits
Proper Food For Dogs, Perfect for Small Mouths, With Freshly Prepared Proper Meat No Meat Meal or Fillers, Grain Free Recipe, Natural Ingredients, Training Treats
66% Freshly Prepared Chicken, 20% Freshly Prepared Salmon, Vegetable Glycerin (derived from Rapeseed Oil), Potato, Parsley