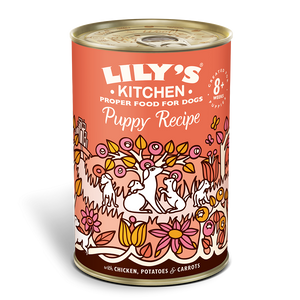 This brilliant Great British Breakfast recipe is just for your beloved dog. Nutritionally complete and naturally delicious, your dog can tuck into lean and protein-rich venison sausage meat, delicious ham, egg, fibre-packed haricot beans and a sprinkle of parsley for their morning spread. So whether you're having a long, luxurious weekend breakfast or need something quick to serve up before work, this nourishing recipe will leave your dog bright eyed and waggy tailed from the very first bite.
Composition
Fresh Chicken (67%), Potatoes (2%), Carrots (1%), Vitamins & Chelated Minerals, Salmon Oil.
Herbs & botanicals: Golden Rod, Nettle, Aniseed, Celery Seed, Rosehips, Marigold Petals, Cleavers, Seaweed, Alfalfa, Milk Thistle, Dandelion Root, Burdock Root.