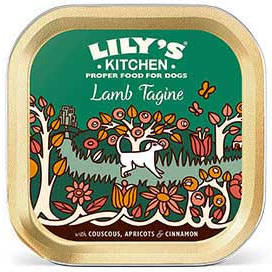 Composition: 60% Freshly Prepared Lamb, Couscous (3%), Squash (2%), Broccoli (2%), Apricots (2%), Kale (1%), Minerals, Brown Rice (1%), Turmeric, Cinnamon (0.1%), Flaxseed. Botanicals and Herbs: Golden Rod, Nettle, Aniseed, Rosehips, Marigold Petals, Cleavers, Kelp, Alfalfa, Milk Thistle, Dandelion Root, Burdock Root, Celery Seeds.

Technological Additives: Locust Bean Gum; Sensory Additives: None stated; Nutritional Additives: None stated.

Analytical Constituents: Protein 10.6%, Crude Fibres 0.5%, Crude Oils and Fats 7.4%, Crude Ash 2.5%, Moisture 80%.