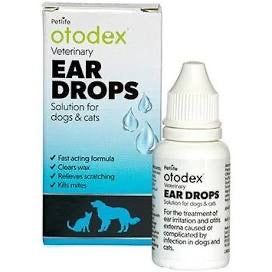 Otodex Ear Drops for dogs and cats is a treatment of ear irritation and otitis externa. Formulated for pets over the age of 12 weeks old, these ear drops contain a fast-acting formula that clears wax, relieves scratching and has a wax solvent to remove wax fungicides and bactericides.
It is available in a 14ml bottle.
Key benefits of Otodex Ear Drops:
- Useful against common and difficult-to-treat bacterium in chronic ear cases
- Contains a mild analgesic to relieve pain
- Includes emollient to moisturise the skin
- Fast-acting formula
- Kills mites
Ingredients: A clear colourless solution with a pine odour containing Phenoxyethanol PhEur 1.0% w/w and Chlorbutol PhEur 1.1% w/w in a Propylene Glycol base.