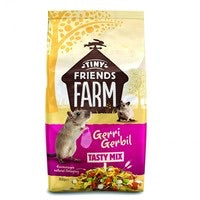 Supreme Tiny Friends Farm Gerri Gerbil Tasty Mix has been carefully formulated to provide your gerbil with a delicious and nutritionally complete daily diet.
Supreme Tiny Friends Farm Gerri Gerbil is a visually appealing tasty mix; the varied shapes, sizes and textures will provide interest and also enable natural foraging behaviour. ensuring your pet will remain happy and healthy.
This unique recipe contains a blend of natural ingredients, which will provide any gerbil with 100% of its nutritional needs and mealtime enjoyment.
Feeding Guide:
The average adult gerbil will require 5-10g/day of Gerri Gerbil. Fresh water should always be available
Composition:
Wheat, soya bean meal, flaked maize, torrified wheat, whole oats, whole maize, flaked soya beans, flaked peas, alfalfa meal, pumpkin seeds, dried carrot flakes, wheat feed, linseeds, soya oil, soya bean hulls, extruded locust beans, calcium carbonate.